Date: Wed, 30 Apr 2008
Subject: Thanks for the call...

Dear Marian,

Just wanted to thank you for your phone call and advice regarding my inquiry earlier today. Unfortunately, hectic schedules and corporate America have made buying from large retailers like Home Depot all too common. I sure wish I had discovered your company when I was looking to purchase my door, not now when I'm trying to clean up the mess I've been left with due to poor customer service, lack of knowledge and apathy. Your suggestions have given me a couple of options to pursue and I appreciate it greatly! Please be assured that I have "favorited" your site and will be in touch whenever I need stained or leaded glass windows or doors in the future.
Thanks Again,
Roxane

NOTE:
Roxane's purchase of a complete entry went sour when the IG (insulted glass) seal failed on her transom, allowing moisture and dust to enter in between the outer insulating glass and the leaded glass WINDOW Furthermore, the brass came is tarnishing and will eventually turn black. The company that produced this window had gone out of business. It took a year and a half, but Home Depot finally sent her another window from their current supplier, but it was 3 inches too long and cannot possibly fit into the space of the original without reconstructing the transom opening, which means it will not line up properly with the rest of the entry.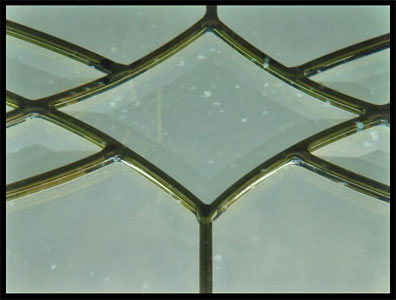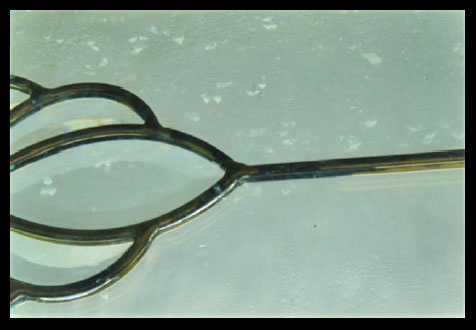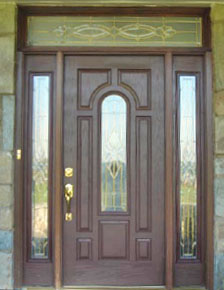 We shipped her window to our shop with the intention of removing the insulating glass and redoing it. To our amazement, the spots you see have been etched into the glass and cannot be cleaned off. What would Mike Holmes ("Holmes on Homes") say about this mess?
I asked Roxane to verify the accuracy of my description of her situation:


Date: Wed, 7 May 2008
Hi Marian,
Your description of my situation is absolutely accurate. My door was only about 3–1/2 years old when I noticed that the seal had failed and it took me over a year and a half of " working" with Home Depot to get to the point where I am now. I will update you if and when I have a final outcome. I have contacted a master carpenter to look at the possibility of building a transom around the glass they sent me and I'm currently waiting for him to come by.
Roxane