From: Mrs. Steve S
To: Marian
Subject: New door
Date: Mon, 14 Apr 2003

OMG! The door is beautiful!
The construction guys just took it out of the crate and are getting ready to stain it and install it later.
We are SOOOO thrilled!!!

Will send photos as soon as it's up.

You sure had the approval as well from our neighbors who watched them uncrate it AND the construction guys. :)
Not to mention US, of course. WELL DONE!

You've created yet another masterpiece!

THANKS!!!!!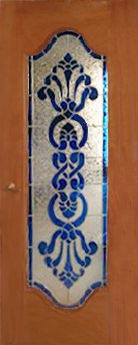 From: Mrs. Steve S
To: Marian
Subject: Need another Door
Date: Tue, 10 Dec 2002

Hi Marian,
I need another door asap. :)
Can you make another one with this design?
I'd want the whole design royal blue ... parts in this are clear ... but I want the pattern blue.
Glue Chip to obscure on the surrounding white clear parts cause it's for another bathroom.
Same door style ... mahogany.
80 inches tall standard height 36 inches wide.
Can you do it?
Then I'm going to order another one in about 2 weeks for the third story bathroom.
What can I say? You're great!
I just can't be happy with anybody else's work.




From: Mrs. Steve S
To: Marian
Date: Mon, 10 Feb 2003

OH MY GOODNESS!!!
The guys just uncrated the door and it is absolutely gorgeous!!!
As soon as we get it all up I'll take a photo of it.
It matches the transom exactly! Same pattern and glass.
You'll really love it when you see it!





From: Mrs. Steve S
To: Marian
Date: Mon, 9 Dec 2002

Dear Marian,

The Stained Glass door is GORGEOUS!!!
They opened the box today and all the workmen stood there oohing and awwing....as did we.

That is the most beautiful door we've ever seen!
Steve took photos!
We are thrilled!!!!
Thank you!!