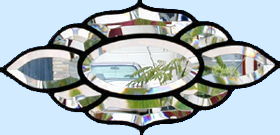 A Bevel is a piece of glass which has had its edge ground to a slant and then is polished back to clear.
A grouping of several bevels combined to make a design that is commonly the focus of the window is referred to as a Bevel Set or bevel set.
NOTE: Bevel Sets/Clusters are a fixed size and can only be altered with custom beveling, which can be expensive; therefore, we try to work with the sizes available.